Status of Cases in Hamilton | City of Hamilton, Ontario, Canada
April 12, 2023
We recognize people will have varying levels of comfort as we continue to live with COVID 19.
The office is open.
We are balancing in person events, meetings and the efficiency of online services.
Recently we surveyed membership on their preference for General Membership Meetings (GMM).
The will of membership is for GMM will start in person May GMM 2023.
Moving forward, GMM will be online from October to March and in person from April to September.
Employers continue to utilize online meetings.
Steward Meetings will continue to be held online as attendance increased and the Stewards have noted their preference in a recent survey.
Masks and sanitizer are provided at the door (or wash hands).
Screening is not required; however, we ask all members or visitors to be mindful of symptoms and stay home if they are not feeling well.
Proof of vaccination is not required.
We will continue to clean and disinfect high touch surfaces.
COVID-19 Restrictions | City of Hamilton, Ontario, Canada
Reducing COVID-19 risk in community settings: A tool for operators (canada.ca)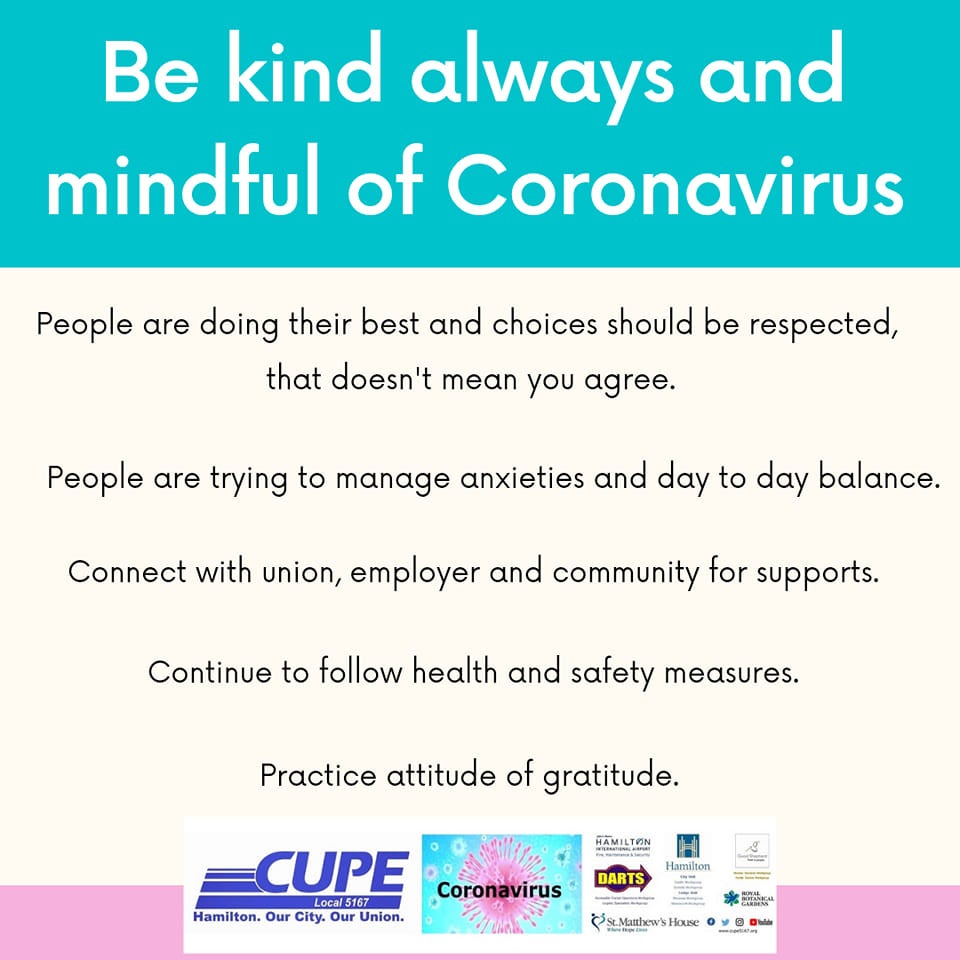 ATTENTION CITY UNIT MEMBERS – December 1, 2022
RE: City Arbitration Decision – Mandatory Vaccination Policy
As you know a grievance was filed in September 2021 regarding the City of Hamilton's Mandatory Vaccination Policy and an additional grievance in January 2022 regarding the amendments to proceed to termination of any employee that had not been vaccinated or disclosed their vaccination status.
The matter was unresolved through the initial steps of the grievance procedure as outlined in our Collective Agreement. The local then referred the grievance to arbitration.
Arbitrator Jesse M. Nyman has released his decision.
Article 10.3 (g) is being upheld and prevents the City of Hamilton from terminating employees that choose not to be vaccinated. However, this does not apply to part-time employees, as article 10.17 states part-time employees are entitled to pay in lieu of benefits. Arbitrator Nyman states that article 10.3(g) constitutes as a benefit.
Please note that article 10.3 (g) does not apply to employees that chose not to disclose their vaccination status.
City employees that choose not to be vaccinated may be placed on unpaid leave.
The arbitrator expressed no opinion to the duration of such leave or frustration of employment relationship, that will be determined if the situation arises.
For the complete decision please visit:
2022 CanLII 112114 (ON LA) | Canadian Union of Public Employees, Local 5167 v Hamilton (City) | CanLII
Previous Communications:
Update August 12, 2022
https://globalnews.ca/news/9055790/hamilton-suspends-employee-covid-19-vaccination-policy/
Hamilton City Council votes 9-4 to suspend the vaccination policy.
Arbitration will proceed in September regarding the policy.
Update June 2, 2022
Please see the attached award.
Award – CUPE – Hamilton – Vaccination Policy – Bifurcation
This award gives the union the ability to argue that termination is a violation of our Collective Agreement prior to arguing the policy as a whole.
Update May 25, 2022:
Council met today and voted 11 to 3 in favour of a motion to move the June 1, 2022 termination date to September 30, 2022.
Members that are unvaccinated or have not disclosed their vaccination status will continue to be required to test.
We will continue to update membership as things unfold.
Posted May 24, 2022:
Attention City Unit Members – Mandatory Vaccination Policy Update
An arbitration hearing was held today in relation to CUPE Local 5167's policy grievance challenging the planned termination of members who are not compliant with the City's Mandatory Vaccination Policy.  The Union scheduled this hearing on an expedited basis and was prepared to proceed with its argument that Article 10.3 (g) of the Collective Agreement prevents the City from terminating members who have not complied with the City's Vaccination Policy.
The Union took all steps available to it to have this matter heard and decided on an expedited basis.  Unfortunately, the City opposed the Union's efforts to have this matter heard on an expedited basis and we are waiting for a preliminary ruling from the Arbitrator on procedural issues.  Due to the legal position being taken by the City, further arbitration dates will be required before we receive a decision from the Arbitrator regarding whether the City is entitled to terminated people who do not comply with the City's Vaccination Policy.
Meetings set for grievances to be filed were canceled based on todays update noted above.
April 27, 2022
City Council GIC voted to suspend the COVID 19 mandatory vaccine policy as recommended by Human Resources on April 20, 2022, it was supported by one vote.
Today, it went to council to ratify; the vote was deadlocked; therefore, the policy remains in place and the employer will proceed as planned.
Please note the local has filed policy grievances and have directed our legal council to contact the employer's legal council to choose an arbitrator and confirm arbitration dates in May for the policy grievances, as well as the violation of article 10.3 (g). We are going through the expedited arbitration process.
We will continue to keep members updated as information becomes available to us and pursue the avenues available within the scope of the Collective Agreement.
We will file an individual grievance for each member upon contact after June 1, 2022, we cannot file the grievances prior to the actual implementation.
We have attached the grievance fact sheet so members can ensure we have their correct individual information.
Grievance Fact Sheet 2020 Fillable
Please email your Unit Vice President this information:
Greg Dawson, City Outside Vice President: dawson@cupe5167.org
Tracey Provo, Acting City Inside Vice President: provo@cupe5167.org
Please continue to visit the website for regular union updates and register for eBlast to stay connected to your union.
April 20, 2022
City Council GIC voted to suspend the COVID 19 mandatory vaccine policy as recommended by Human Resources today.
The decision isn't final until city council ratifies it next weekThe decision isn't final until city council ratifies it next week.
How they voted:
Who was in favour of lifting the vaccination requirement
Terry Whitehead (Ward 14), Arlene VanderBeek (Ward 13), Maria Pearson (10), Esther Pauls (8), Jason Farr (2), Brad Clark (9).
Who was opposed
Maureen Wilson (1), Brenda Johnson (11), Mayor Fred Eisenberger, John-Paul Danko (8).
Absent
Russ Powers (5), Judi Partridge (15), Nrinder Nann (3), Sam Merulla (4), Tom Jackson (6), Lloyd Ferguson (12).
Once confirmed this will mean members on unpaid leave will be able to return to work. They should connect with their direct supervisors.
The City will maintain the vaccine mandate for city-run care homes (Lodges), paramedics and those working at Red Hill Child Care Services.
April 13, 2022
CUPE Local 5167 City of Hamilton Employer COVID 19 mandatory vaccine policy update.
The union continues to meet with the employer about the current state of COVID 19 and express to the employer our members rights under 10.3 (g) of the Collective Agreement.
Our goal is to help all members sustain their employment and Collective Agreement rights.
We filed at grievance in September 2021 when the policy was first implemented.
In addition, we sought out a legal opinion from our employment lawyer.
We filed a grievance regarding the unreasonableness of the amended vaccine policy in January of 2022 that would result in the termination of our unvaccinated members June 1st 2022.
The grievances were presented to the employer towards the end of February and the union and employer have continued to have ongoing discussions regarding this matter.
CUPE Local 5167 is working with CUPE National Communications to draft a letter to be delivered to council regarding our position and the violation of article 10.3 (g).
Senior management will be presenting recommendations to council and those recommendations will be public April 12th.
We are hopeful those recommendations will support amendments to the policy to remove the termination of CUPE Local 5167 members.
In the event council does not amend the policy our employment lawyer will move forward in an expedited process to arbitration.
Furthermore, we have directed our legal council to contact the employer's legal council to choose an arbitrator and confirm arbitration dates in May.
We will continue to keep members updated as information becomes available to us.
Please continue to visit the website for regular union updates and register for eBlast to stay connected to you union.
January 13, 2022
The Union met with the Employer where we were advised of the possible changes to the Mandatory Covid-19 Vaccination Verification Policy, specifically as it relates to the implications to the employment status of our members. The Union argued adamantly against the changes. We have filed a policy grievance against the amendments to this policy.
The Employer's Amendment to the Mandatory Covid-19 Vaccination Verification Policy (the policy) is unreasonable, fails to consider less intrusive means to achieve stated policy objectives and contains disproportionate penalties for non-compliance.
Further, the Employer failed to consult with the union, the Joint Health and Safety Committee, and any other committees in the development of the policy.
Individual grievances will be filed if members are terminated June 1, 2022.
Other regions have already terminated employees under similar policies, we should see arbitration decisions coming, we assure you we are monitoring the situation closely.
Our website continues to be the best location to review any updated information.
We are also providing links to the Health Canada Web site, CUPE National, CUPE Ontario that you may find helpful.
https://www.canada.ca/en/health-canada.html
Let us conclude by saying we are sorry this unfortunate situation is causing any member stress and concern. Please be aware that if you are struggling you can always call EFAP at 1 800 663 1142
Executive Board
November 21, 2021
COVID-19 – A Message from the President of CUPE Local 5167.
I want to begin this message by acknowledging every single one of our 3800 members who have continued to deliver valuable services throughout this unprecedented time in our history.
In your own way you've done your part, so thank you to:
City of Hamilton – Macassa and Wentworth Lodges workers
City of Hamilton – Inside and Outside workers
DARTS – Inside and ATO workers
Good Shepherd – Women Service's, Family Centre & Reaching Home Division workers
Hamilton International Airport workers
Royal Botanical Gardens workers
St. Matthews House workers
CUPE Local 5167 is a membership that is comprised of a diverse group of workers, in various workplaces, with varying opinions and beliefs.  As such, there's never been a time when it's been so important to strive to respect and support each other's physical, emotional, and mental well being.  We've all endured nearly 19 months of learning how to live in a world none of us could have imagined living in.  A world that now includes masks, hand sanitizing, screening questionnaires, long line-ups, home schooling issues, working from home challenges, social distancing, cancelled events, virtual on-line meetings, and perhaps worst of all fear and anxiety. 
None of this has been easy, and we're all tired of it.
While COVID-19 has been a long and arduous battle, it is a battle we are winning.  A big thank you to everyone who followed the advice of the Public Health professionals and got vaccinated when you were able to do so, in line with CUPE National's direction.
To those of you that chose not to get vaccinated, know that I support your right to make that choice for yourself.  The union has and will continue to support you, in any way we can.
So, what does that mean exactly?  It's important you know what the union can and cannot do.  The union does not have the right to pre-emptively tell anyone's employer that they cannot implement new policies, especially when those policies come to pass based on Public Health recommendations during a Global Pandemic.  It is only when and if those policies adversely affect a member can we begin the process of utilizing the grievance procedure as outlined in each unit's Collective Agreement.  For example, you have been sent home on an unpaid leave for not complying with the vaccine verification policy.
What the union has done:
Filed a policy grievance

Regularly met with Labour Relations

Attended CUPE Ontario's leadership calls

Attended CUPE Ontario's Vaccine Town Hall

Obtained an independent legal opinion from an employment lawyer

Posted information and updates on the website

Countless conversations and responses to members

Supported members seeking accommodations
Attention CUPE Local 5167 Members – City of Hamilton Employees – CUPE 5167
Legal Opinion of the City Vaccine Verification Policy – CUPE 5167
CUPE ONTARIO Vaccine Policy TownHall Video – CUPE 5167
What the union will do:
File individual grievances

Continue to monitor and update membership
It is imperative we continue to follow the expertise of Public Health, along with our own National office's leadership.
Please see the direction provided from the CUPE National:
COVID-19 Vaccination: Workers' Rights | Canadian Union of Public Employees (cupe.ca)
I encourage each and every one of you to be safe, tolerant, and understanding.  We're all doing the best we can during these trying times.
Please visit the CUPE Local 5167 website to see COVID updates, and how they affect our daily operations.  www.cupe5167.org 
Please reach out to the union and supports available to you.
Member Employee Supports – CUPE 5167
Please stay well and stay safe.
In solidarity,
Jay Hunter
President, CUPE Local 5167
September 15 , 2021
Legal Opinion of the City Vaccine Verification Policy
Attention City of Hamilton Employees Update 3 -Posted September 15
September 10, 2021
CUPE ONTARIO hosted an ONLINE information session about vaccine policy.
Please click here: https://youtu.be/C1M76j2Vnw8
Attention CUPE Local 5167 Members – City of Hamilton Employees
Update #2 – August 30, 2021
The City has posted their policy regarding the mandatory vaccination verification policy. Please note we previously referred to this as the mandatory vaccination policy. It should be noted it is not a mandatory vaccination policy; but is about verification from a health and safety perspective.
We understand and have heard the varying opinions and perspectives of members from both ends of the spectrum and everything in between.
We would like to remind our members CUPE National's Health and Safety Branch recommend vaccination as soon as they are able to do so.
https://cupe.ca/covid-19-vaccination-workers-rights
We have met with the employer today. We are left with unanswered questions as the employer is still in the process of sorting the details of the policy.
Clarification we received:
Verification of vaccination will be from the Ministry of Health; the employer will provide instructions on how employees access and share this information to Return to Work Services. As with all medical documentation, it will be subject to privacy laws.
The testing will be rapid antigen. More details to come.
The cost of rapid testing is not the responsibility of the employee at this time.
Vaccination is not a requirement for new hires, they will be bound by the same verification policy. Their vaccination status is not a requirement of hire.
The education piece will be a one-time video approximately 30 minutes in duration.
Medical exemptions will require medical documentation to be submitted to Return to Work
Religious exemptions will require verification to be submitted to the Human Rights group.
The intent of the policy is not meant to be disciplinary in nature but rather educational.
What we still require clarification on:
The implementation date of rapid testing.
Details around PCR testing if an employee fails the rapid antigen testing.
Details of when and where and how rapid testing will take place.
We understand members may choose to share their own personal information in the workplace, however, no one should be a subject of debate or harassment. It is still personal confidential information. We remind members of the Employers code of conduct and the respectful workplace policy as well as CUPE's Equality Statement and Code of Conduct on these matters.
CUPE Local 5167 will be filing a policy grievance to ensure our timeline under the Collective Agreement are met while we ensure the Employer policy does not exceed management's rights or violate any of our members individual rights under the Collective Agreement or legislation.
We will be meeting with the employer again next week, once they can confirm the details.
We will be holding an information session most likely next week once we have further information.
In solidary,
The Executive Board