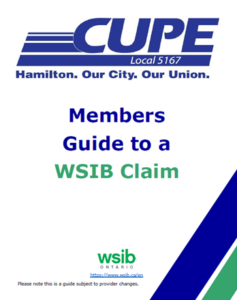 Click on the above to review the Members Guide to WSIB Claim.
WORKPLACE ACCIDENTS/INCIDENTS
A Worker who is injured at work or becomes ill because of their job should:
Get immediate medical attention or health care as needed

Tell your Employer about the accident or illness immediately
This may consist of simple First Aid, or may involve a trip to a Clinic or Hospital.  Your Employer is responsible for transporting you to where you need to go to get Medical Attention, (this may mean a Taxi, Ambulance, or simply giving you a ride).  Your Employer is responsible for paying you for your whole shift. 
Please note it is important to know that the Injured Worker and the Employer each have rights and responsibilities under the Workplace Safety and Insurance Board Act (WSIB).
Employee Responsibilities:
Report the accident/incident immediately
Seek medical care if required
Advise the Health Care Provider that the injury/disease is work related
Stay in contact with your Employer throughout your recovery period
Cooperate and provide information/documentation as required
Write down what happened and keep records
If your health care professional states that you have restrictions, and your Employer is able to provide you with SUITABLE MODIFIED DUTIES that fit within your restrictions, you must co-operate in a return to work, or you could be DENIED BENEFITS BY THE WSIB.
YOU WILL BE DEALING WITH MANY DOCUMENTS AND FORMS IN RELATION TO YOUR ACCIDENT/INCIDENT.
WSIB forms that MAY need to be completed:
WSIB FORM 8.  This is the form that your doctor or health care provider fills out at the onset of Medical Treatment for your Accident/Incident.
WSIB FORM 7.  This is the form that the Employer fills out in regard to your Accident/Incident.  They are responsible for supplying you with a completed copy.
WSIB FORM 6.  This is the form that the Worker (you) fills out in regard to your Accident/Incident.
Ongoing updates may be in the form of:
Functional Abilities Form
Fit To Work Form
A Detailed Healthcare Providers Note
It is VERY IMPORTANT THAT YOU KEEP COPIES OF ALL THESE FORMS, AND ANY OTHER DOCUMENTATION INVOLVED WITH YOUR CLAIM.
Please contact your Union so they may assist you with your claim.
It is recommended that you keep a diary of everything you experience in regard to your Injury/Illness.  (What happened and when, witnesses, medical appointments and treatments e.g. physiotherapy, x-rays, MRI and other diagnostic testing, mileage, etc.).  The reason for the diary is that WSIB cases can become very complex and a written account of what has happened may be of great importance at a later date.  A Journal/Diary of the events will provide support and credibility for your case.  Most people are unable to remember all the specifics of events for long periods of time.  Some injuries are severe enough that they are dealt with throughout your entire lifetime.
Please note if you are a City of Hamilton Employee and you receive a denial from WSIB, you need to apply for Short Term Disability (STD) Benefits as outlined in the Income Protection Plan (IPP).
Click here to link to the WSIB website.
WSIB Exposure Form 3959a_01_20_fs