Hamilton. Our City. Our Union.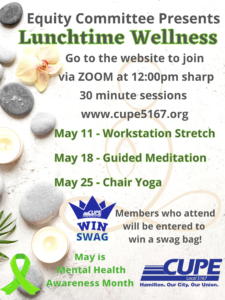 Equity Committee Presents Lunchtime Wellness May 25, 2022 11:30 AM https://us06web.zoom.us/j/88618587834?pwd=c21jVXdMUjAxVkFOb3FveHptZ3Q2Zz09 Meeting ID: 886 1858 7834 Passcode: 634622
Read More »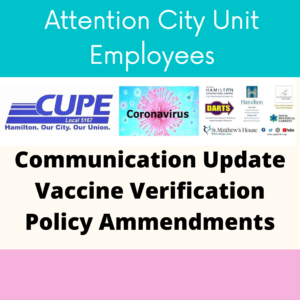 May 24, 2021 Attention City Unit Members – Mandatory Vaccination Policy Update An arbitration hearing was held today in relation to CUPE Local 5167's policy grievance challenging the planned termination of members who are not compliant with the City's Mandatory Vaccination Policy.  The Union scheduled this hearing on an expedited basis and was prepared to
Read More »
We are pleased to announce the members have ratified their Collective Agreement.
Read More »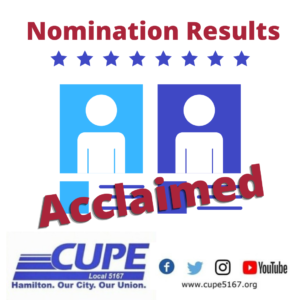 ACCLAIMED TEMPORARY INSIDE VP TERM ENDING JUNE 2023 We are pleased to announce that TRACEY PROVO will continue to act in her current role as temporary City Inside VP. The Union would like to thank all those who expressed interest in voting for the position. An election will not be required.
Read More »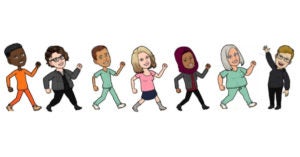 MAY GMM WILL BE ONLINE Monday, May 30, 2022, at 6:00pm (Not May 24 due to Victoria Day) YOU MUST BE A MEMBER IN GOOD STANDING TO ATTEND On Monday, May 30, 2022 at 5:45pm, go to www.cupe5167.org and click on the notice to attend GMM. Then click on the ZOOM link. Please download the application. Documents will be
Read More »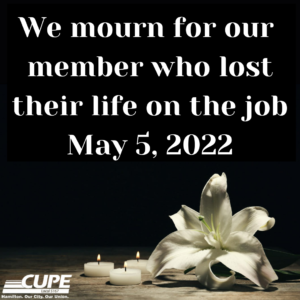 It is with great sadness that we were advised that one of our members from the DARTS Unit has passed away as a result of an accident that occurred while on the job. It is with a heavy heart that we send our deepest condolences to the family and DARTS family. Here are some
Read More »

STEWARD ELECTIONS TERM JULY 2022 TO JUNE 2024 To apply to become Steward, you must: 1.  Be a member in good standing 2.  Self-nominate by emailing office@cupe5167.org with the subject line "STEWARD SELF NOMINATION" Self-nomination deadline: Tue. May 31, 2022, 4pm Your email must include the following information: 1.  First and Last Name 2.  Home Address 3.  Home/Cell Number 4.  Current Work Location
Read More »

City Council GIC voted to suspend the COVID 19 mandatory vaccine policy as recommended by Human Resources on April 20, 2022, it was supported by one vote. Today, it went to council to ratify; the vote was deadlocked; therefore, the policy remains in place and the employer will proceed as planned. Please note the local
Read More »

City Council GIC voted to suspend the COVID 19 mandatory vaccine policy as recommended by Human Resources today. The decision isn't final until city council ratifies it next weekThe decision isn't final until city council ratifies it next week. How they voted: Who was in favour of lifting the vaccination requirement Terry Whitehead (Ward 14),
Read More »