Hamilton. Our City. Our Union.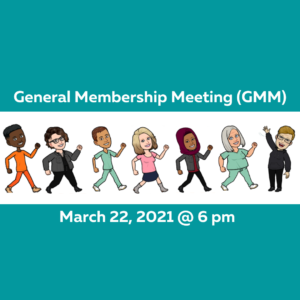 Hamilton is currently in the restricted level, GMM will be held ONLINE on: Monday, March 22, 2021 at 6:00pm You must pre-register your attendance by Friday, March 19, 2021 at 4:00pm You must be a member in good standing. Email the office at: office@cupe5167.org You will need to provide your full name, unit and
Read More »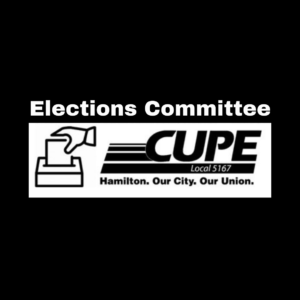 Elections Committee Term 2021-2023 SHARLA ARMSTRONG BEVERLY BROWN-MCKENNA ALCINO DUARTE CHARITY ELLIOTT RUTH GRAVES GREG HALLIDAY JEAN KIRBY CATHY PATER   DEANN SMITH The Alternates will be determined The union would like to thank all those who participated in this process.
Read More »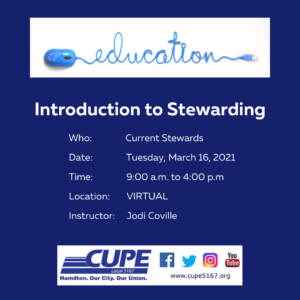 To register, please complete the education request form and send it to office@cupe5167.org no later than Wednesday, March 10, 2021 at 4:00 p.m. For all educational inquiries, please contact 3rd Vice President Virginia Stonehouse at stonehouse@cupe5167.org. Please note this will meet your obligation for Steward Introduction, however, is not registered with CUPE.
Read More »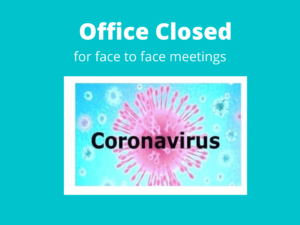 Hamilton is currently in LOCKDOWN. Please note the office is staffed, however closed for any face to face meetings. Executive Officers are working from home remotely. PLEASE CALL BEFORE COMING TO THE OFFICE as we may be able to resolve the issue without a trip to the office. Anyone who is required to attend the
Read More »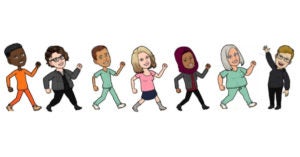 GMMs are held on the 4th Monday  of the month at 6:00pm. No GMM in December.
Read More »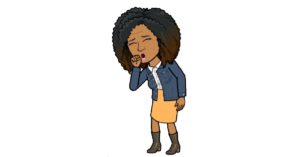 Not feeling well? Make sure you are aware of the changes to the Income Protection Plan.
Read More »