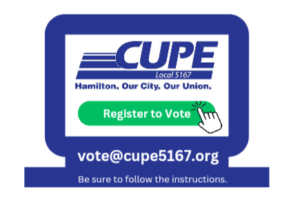 To vote on strike and ratification votes you must be a DUES PAYING MEMBER.
To vote on your representatives, attend general membership meetings and participate in union business you must be a MEMBER IN GOOD STANDING. 
To learn more about being a member in good standing click HERE.
Please note there may be multiple elections or votes happening at the same time,  you must identify what you are registering for in the subject box as noted on the posting.
PLEASE READ THE WHOLE POSTING.
There are deadlines that must be adhered to to ensure your participation.
ONLINE VOTING PROCESS
To register to vote for any election or vote please email:
Please ensure you are emailing from your personal email only.
Please include the following:
Subject Box: This will be identified on the posting ie. "JHSC Roads North"
In the body of the email provide:
Full Name:
Unit:
You will receive a confirmation email that you registered. Please keep for your records.
Please note we will only reach out if there are any issues with your registration.
Please not do send multiple emails unless there is more than one election or vote.
Please do not call the office to confirm your registration as this creates workload issues, as you have a confirmation.
You will be sent an email from cupelocal5167@simplyvoting.com with your Elector ID and Password on the day of the election or vote at 7am.
If you do not receive an email/ballot on the day of the vote, please check your junk/spam folders first. Please contact the office as soon as possible.
Thank you in advance for respecting the consistent practice to ensure fairness and integrity of the registration process.