political action noun : action designed to attain a purpose by the use of political power or by activity in political channels specifically : such action by organized labor through recognized political means (as participation in party organization, in elections, and by lobbying) —contrasted with direct action  https://www.merriam-webster.com
As a union it is important that we organize our efforts as working people to make our voices heard by our elected public officials regarding municipal, provincial and federal politic/issues.
Becoming politically active can often seem overwhelming – there are so many issues that need to be addressed!
WHAT ISSUES SHOULD I GET INVOLVED WITH?
One that is important to YOU
One that is important to your neighbours, family, or community
One that is important to your colleagues
One that is important to your clients
TYPES OF POLITICAL ACTION ISSUES:
Your Union specific issues (ie/ CUPE National Fix Long Term Care campaign directly impacts the work of our Lodge Unit members or when your Collective Agreement is being bargained, supporting the bargaining team)
Labour related issues (OFL $15 and Fairness is about ensuring all workers have living wage)
Social justice issues (Black Lives Matters is about bringing attention and action to the racial inequities that impact black people; for example, why are young black men experiencing such high rates of police brutality?)
Public service issues (CUPE Ontario Communities Not Cuts campaign is about protecting our public services such as healthcare, education and community services)
We are all constantly juggling work, family, and social responsibilities. Adding "political action" to our to-do lists may seem like just one more thing we have to do! But remember you are not alone and there are various levels of involvement.
WHAT CAN I DO TO BE POLITICALLY ACTIVE?
Stay up to date and aware of current issues and participate in the associated political action events
Talk to your neighbours and co-workers about political action issues
Join an organizational committee or council in your community
Speak out and attend an organizational town hall meetings or forums
Attend rallies and protests
Write to your City Councillor (Municipal), MPP (Provincial) or MP (Federal) about a political action issue (often they take a few seconds as campaigns have done the work)
Go a step further and meet with your local government representatives
Share information on social media
Sign online and hardcopy petitions
Run for position in your union or community, there are many opportunities out there!
VOTE!! Make an informed vote on who is representing you at the municipal, provincial and federal levels!!
If we work together with family, friends, and colleagues,
the easier political action it is to accomplish!!
Links to Political Action:
Care Not Profits Campaign (CUPE, Unifor, SIEU joint campaign)
HDLC (Hamilton District Labour Council) Upcoming Events
Campaign Request Form 2021 – Fillable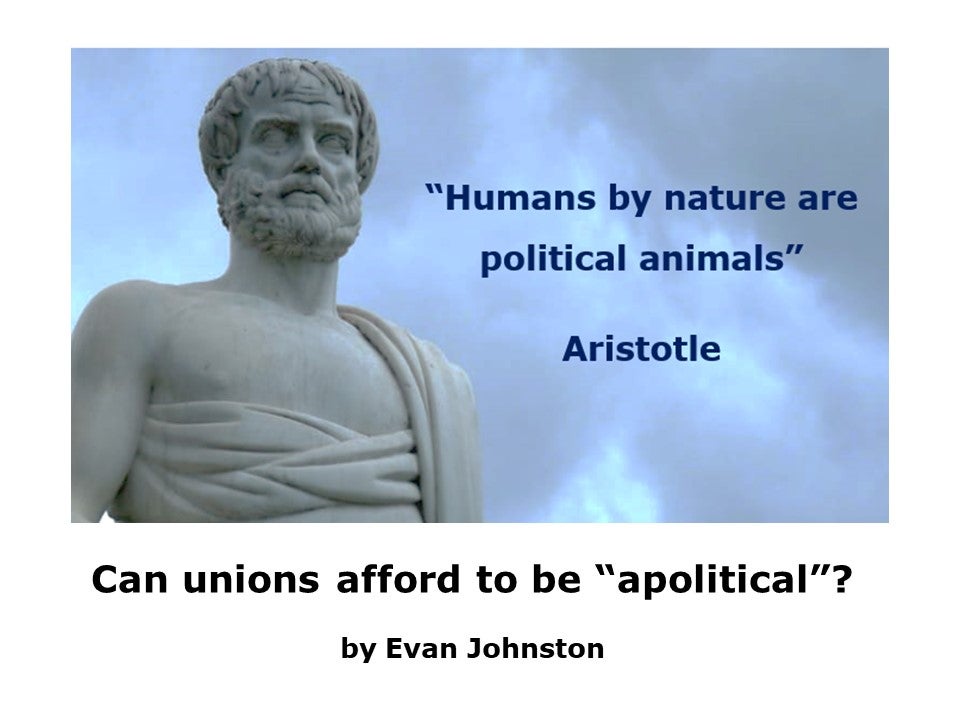 a·po·lit·i·cal not interested or involved in politics (dictionary.com)
We've all seen the headlines: The City of Hamilton is facing down a $52-million budget shortfall. Talk of cuts, belt-tightening and service reductions abound in every department, and the decisions that Council will make about next year's budget are guaranteed to have an impact on our coworkers.
We are seeing cuts to existing and expected funding, and the downloading of services from the province to the city without any new sources of revenue. It's a situation that many have described as "grim," and one that reminds us of why unions need to make the voices of their members heard: Our elected officials make decisions about the programs and services our friends and neighbours rely on, and about the jobs and working conditions we all depend on to support ourselves and our families.
You've probably heard it said that unions shouldn't stick their noses into politics — that unions should be "apolitical". "It's fine for unions to talk about workplace issues," it is sometimes said, "but it's not right for them to take a position on larger issues or to meddle in elections!"
However, the current budget crisis shows us that defending members — and defending good public services — will require unions to extend their activism beyond the walls of their workplaces. If unions aren't organizing to fight for a fair and equitable society, than the big business lobby will be there to offer politicians the same old recipe for cuts and austerity.
So, what does it mean for a union to be political? The first and most obvious way is for unions to make their voices heard during elections. Working to elect progressive candidates is good; but pushing politicians during an election to support specific campaign demands is even better. For example, can we get candidates to meet with us and sign a pledge in support of our members' priorities? Can we shift the entire conversation so that no candidate can afford to ignore the real issues in their community?
A second way for a union to be political involves organizing between elections regarding issues that improve the lives of all working people. Raising the minimum wage, building affordable housing, improving public transit — CUPE Local 5167 has a proud history of this work. Unions need to be always building bridges between where we work and where we live, because it's only by building our collective power and confidence as working people that we can ensure governments listen to the voices of the many rather than to the well-connected few.
The answer is NO, unions and members can't afford to be apolitical in the coming days of Ford Government Cuts!