CUPE Local 5167 is a composite Local which consists of seven units:
Hamilton International Airport
City (Inside & Outside)
DARTS (Disabled & Aged Regional Transportation System)
Good Shepherd (Women's Services/Family Centre/Reaching Home)
Lodges (Macassa & Wentworth)
RBG (Royal Botanical Gardens)
SMH ( St. Matthew's House)
"The Labour Gazette states that City of Hamilton employees were charted as a union in 1918 with the American Federation of Labour, as the Civic Employees Union Local 16208".
The Rise of Local Five in Hamilton – by Ed Thomas
In the year 2000, CUPE Local 5 (City Outside, RBG, Airport and Flamborough Outside) and CUPE Local 167 (City Inside, Flamborough Inside, and Dundas Inside) merged to form CUPE Local 5167.
A merger committee made up of representatives from Local 5 (Ed Thomas, Fred Loft and Peter Wickett) and Local 167 (Marry Lou Tanner, Carolynn Carter and Vickie Houston) was established to negotiate the merger.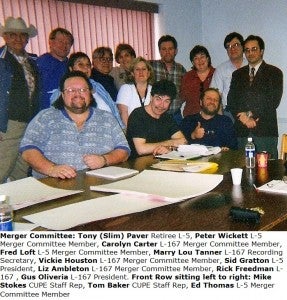 The new CUPE Local 5167 operated for a year with a combined Executive but operated as two memberships and two offices.   After a year the Membership voted to come together as one cohesive group.   CUPE Locals 1006 , 1220 and 3488 (DARTS) voted to join in coming years.
In 2001 the Regional Municipality of Hamilton–Wentworth was merged to form the City of Hamilton. The Lodges (Macassa and Wentworth) were merged into one unit due to an arbitrator's decision as part of the establishment of the City of Hamilton.
In 2014 CityHousing Superintendents joined our local and were later rolled into the City Unit.
In December 2016, CUPE Local 5105 St. Matthew's House merged and became a unit within CUPE Local 5167.
In 2019, Good Shepherd Family Centre voted to unionize and are in the process of bargaining their first agreement. Reaching Home was also added to the Good Shepherd Unit.